MIUR Department of Excellence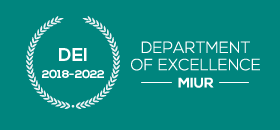 The Department of Electrical, Electronic and Information Engineering "Guglielmo Marconi" (DEI) has been recognized among the Italian "Departments of Excellence" and has been granted funding for € 9,350,000 from the Ministry of Education, University and Research (MIUR) for a five-year development project. This project was among the 180 winners at national level of the Call for Proposals issued by MIUR, aimed at funding the best Departments of Italian State Universities.
Project and objectives
One of the main technological challenges to realize the vision of Industry 4.0 is the creation of a continuum between embedded systems - which interact directly with the physical world through sensors and actuators - communication systems, control, processing and storage of digital data, and end users. The goal is the development of cyberphysical systems (CPS), in which devices connected to the physical environment and interconnected through wireless networks can collect, exchange and store large amounts of data (big data), accessing distributed digital services (cloud) to analyze and extract knowledge (big data analytics) for their control and interaction with users through smart human-machine interfaces. Cyberphysical systems have been identified as one of the strategic technologies for the digital single market in the Horizon 2020 European Research Programme since 2015, and have been considered as a strategic priority area for the American National Science Foundation (NSF) since 2006.
The project aims to develop knowledge and technologies for the creation of Precision Cyberphysical Systems (P-CPS). Emphasis is placed on the "precision"attribute with a space-time and user-centric approach: it is essential that the interaction with the physical world takes place not only in a highly reliable way, but also with high precision in time (real-time), space (localized) and allowing customization by the end user (user-centric). In practical and quantitative terms, a P-CPS system must operate 24/7, carrying out complex distributed transactions with high space-time resolution, in the order of millimeters and milliseconds respectively.
The strategic application areas chosen as pilots for P-CPS technologies include precision agriculture and precision medicine. Both have a strong impact in terms of environmental and social sustainability: precision agriculture allows to reduce and optimize the use of water and resources, precision medicine allows to carry out primary prevention actions, reducing the use of toxic or dangerous resources.
Specific actions
Research
In line with the P-CPS scientific and technological objective,  our project aims to achieve the following macro objectives:
Consolidate and strengthen the national leadership position on methodologies and enabling technologies for P-CPS. Specific actions will include the enhancement and consolidation of a number of existing research laboratories, as well as the completion of the laboratory pool, with the addition of specific expertise strategically relevant to P-CPS and now absent in the department.
Satisfy the need for knowledge and advanced tools of emerging industrial sectors such as precision agriculture and  medicine. Specific actions in this sense will concern setting up of two new dedicated laboratory infrastructures and activating educational initiatives.
Increasing cross-cooperation between the different DEI research groups, in order to foster an integrated multidisciplinary approach to the development of P-CPS and to become an international reference point for these technologies. Specific actions in this sense will concern the creation of a multidisciplinary P-CPS laboratory with high TRL, linked to existing laboratories.
Strengthening the visibility at national and international level, playing a primary role in applications to competitive calls for tenders, with strong socio-economic and technology transfer impacts, with a characterization of excellence in the P-CPS framework.
Education
The project, as far as teaching is concerned, has the following objectives:
Enhancement - increasing the attractiveness of course programmes offered in the P-CPS sector, in particular considering the needs of specialized personnel by regional companies working in traditional and emerging sectors.
Internationalization - strengthening of the internationalization of the master's degree courses at Cesena Campus, encouraging the exchange of foreign students, the development of final projects in foreign countries, calls for visiting professors, the possible launch of an international programme in BioEngineering, the activation of double degrees and PhD student supervision in the field.
Specialization - support to PhD courses coordinated or participated by DEI, including those to be established by the University of Bologna (e.g., Health & Technology), with particular reference to research topics instrumental to the pursuit of the objectives of this project.
Staff
Thanks to the funding from MIUR and to resources made available by the Department and the University, the aim is to strengthen skills in P-CPS through the recruitment of:
3 full professors
1 associate professor
2 senior researchers
2 technical and administrative staff units
12 doctoral positions
13 post-doc positions.
Laboratories
In the course of this project, new research laboratories will be setup that are specific to the topics, and existing ones will be strengthen.
Consolidate basic laboratories
DEI intends to strengthen and consolidate the basic laboratories, with quotas allocated on the basis of requests for specific equipment, duly justified and contextualised with regard to the impact on P-CPS enabling technologies.
Health Laboratory 4.0
The laboratory will be located in the new Campus in Cesena. The areas of precision medicine to which the P-CPS systems will be applied include:

Human Movement Analysis and Personal Health Systems: motion capture based on heterogeneous sensing, monitoring of physical activity and cognitive state.
Model-based design of Medical CPS: for hospital and extra-hospital applications.
Biological tissue engineering and synthetic biology: advanced applications in molecular diagnostics, regenerative medicine and oncology.
Advanced Imaging Diagnostics: 2D and 3D processing of bio-images for the development of tools to support the formulation of diagnostics and monitoring of therapies.
Neurocomputational and neuroenhancement modeling for human-environment interaction: design of innovative rehabilitation strategies for patients with neurological deficits.

Field Lab
The laboratory will be hosted in an orchard of about 2 hectares, located at the School of Agriculture. The areas of precision agriculture to which P-CPS systems will be applied include:

Massive data monitoring: networks of intelligent, low-power and self-powered sensors (energy harvesting), connected in a network that optimally acquires significant amounts of data (measurement of temperature, humidity, chemical composition, images, etc.).
Prescription maps: algorithms for the intelligent analysis of data, able to detect the presence of specific pathogens, or to make qualitative and quantitative production forecasts
Robotic systems: autonomous aerial vehicles (drones) for transporting sensors, and autonomous land vehicles (rovers) for product handling or tillage.

P-CPS laboratory
Multidisciplinary P-CPS laboratory able to specialize the low-TRL technologies derived from basic laboratories, integrate them and bring them to a higher TRL. It will include three sections:

Industrial Informatics: New basic informatic-industrial research laboratory for the development of integrated P-CPS on interconnected real-time embedded systems and for the processing of the resulting data. The laboratory will have access to CINECA's big-data and HPC bandwidth and infrastructure.
Dynamic Project Allocation: P-CPS technology incubator, based on the specialisation and integration of technologies developed in basic laboratories.
Prototyping and Characterization: Area dedicated to host instrumentation and equipment for rapid prototyping, characterization and verification of prototypes. The equipment will be mainly provided by the pre-existing DEI laboratories in order to optimize the resources management.